Bomb disposal robot is designed by Kent experts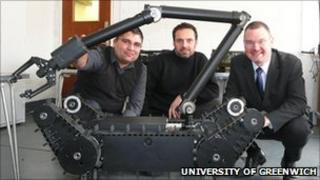 A bomb disposal robot is being designed and manufactured by two Kent organisations.
The University of Greenwich at Medway and NIC Instruments are creating the robot for use by security forces, including the British Army.
The lightweight remote-operated vehicle can be controlled by a wireless device from several hundred metres.
It can climb stairs and even open doors, and could be used by soldiers in Afghanistan.
The robot, which has nuclear, biological and chemical weapon sensors, measures 72cm (28ins) by 35cm (14ins), weighs 48kg and can move at up to eight miles per hour.
'Vital security product'
The two organisations are working together in a "knowledge transfer partnership" in which the main role of the university is to lend its expertise in electronic systems design and software engineering to NIC Instruments.
Dr Steve Woodhead, from the university's school of engineering, said: "It's great to be able to employ our specialist knowledge to support a small manufacturing company in its next stage of development, as well as producing a vital security product."
Folkestone-based NIC instruments is a manufacturer of security search and bomb disposal equipment.
Managing director Steve Wisbey said: "The partnership with the University of Greenwich has allowed us to expand our technology base considerably.
"We are now exploring ways of extending our partnership, as other security projects between us are already under way."
The two-year collaboration is expected to result in the finished robot being used by the defence and security forces of several EU countries.
The robot is said to be lighter and more flexible than traditional bomb disposal units, and easier for soldiers to carry and use when out in the field.
It has cameras on board, which relay images back to the operator via the hand-held control, and a gripper which can carry and manipulate delicate items.