Kent hospital to pay millions to brain-damaged girl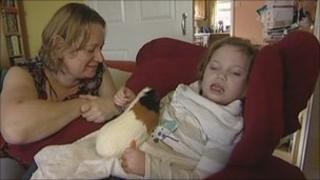 An eight-year-old girl who suffered permanent brain damage after being starved of oxygen at birth has received multi-million pound compensation.
Elke Wisbey, who was born by emergency Caesarean at Maidstone Hospital in Kent, has quadriplegic cerebral palsy and will always need care.
Maidstone and Tunbridge Wells NHS Trust agreed to pay £900,000, with annual index-linked payments of £100,000.
The trust said the payout acknowledged her family's needs and difficulties.
The High Court in London was told on Monday Elke's annual payments would go up to £155,000 a year when she was 19.
"The reason for bringing the court case was that we needed the security that something was going to be there for Elke once me and my husband are not here any longer," said her mother Glynnis, from Bearsted.
"They have settled on the basis of giving us enough money to improve the care that Elke is going to have for the rest of her life."
Mrs Wisbey said she did not dwell on what had happened to Elke.
"If you allow it to eat you up that can destroy you and your family," she said.
"I have concentrated on what Elke has given me.
"Her smiles and her giggles and her cuddles are absolutely wonderful."
The family's lawyer's argued the hospital did not recognise quickly enough the risks of Elke's breech position in the womb and that if she had been born 15 minutes earlier she would have made a full recovery.
In a statement, the trust said its legal advisers and medical experts had identified a number of complex issues in the case.
"No admission of liability was made but a compromise reached which acknowledged the risks of both parties and an understanding of the needs and difficulties of the family.
"The trust offers its very best wishes to Elke and her family for the future."