Nude postcards wanted for Whitstable gallery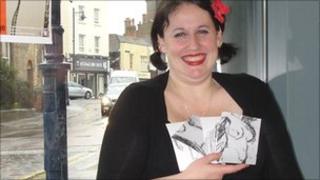 A Whitstable art gallery is asking people to send their nude artwork through the post for a new exhibition.
The Horsebridge Centre is creating the Post Nude exhibition to coincide with the launch of a new gallery.
Artists are being asked to create work on the back of postcards and post them to the Horsebridge Centre.
The centre said the concept had arisen from a need to see more nudes in the gallery and to encourage the use of the local postal service.
Sarah Banville is the curator for Post Nude: "We are simply asking for you to make a nude in any medium, write a short message, post it to us in the usual way.
"We will exhibit these tantalising, exquisite cards in a wonderful way."
There are a set of guidelines in place which artists must adhere to when creating their nudes and postcards can be drawn, photographed, made out of textiles, or reclaimed old postcards can be altered.
'Unique artwork'
Whitstable artist and local postman Paul Elliot said: "I think we have forgotten the joy of receiving letters and postcards - what a great way to support the postal service by actually using it to send unique artwork.
"Bringing diversity and challenging ideas to the Centre will hopefully make it appealing to a broader range of artists and visitors."
The show runs from at the The Horsebridge Arts and Community Centre from 1 to 31 May.