Folkestone's Little Mermaid model sees work in progress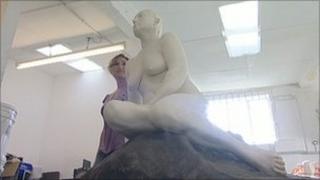 A mother-of-two chosen to immortalise in bronze the pose of Copenhagen's Little Mermaid has come face-to-face with the life-size statue of herself.
The finishing touches are being made to the £25,000 nude sculpture by Turner Prize-nominated artist Cornelia Parker at a foundry in Ramsgate.
The statue will be permanently on view in Folkestone harbour from this summer.
Georgina Baker, 38, of Sandgate, said she felt "so proud" and was very privileged to have been chosen.
'Statuesque quality'
She was picked after all the women in Folkestone were invited to send a picture of themselves to model for the statue.
Ms Parker said it was down to her "great statuesque quality".
"She was slightly fuller figure. From all the models that came forward I decided that I would rather have somebody that had a real body rather than somebody who was too close to the original," she said.
The work is one of several commissions for the Folkestone Triennial 2011.
The statue has been funded by a number of public and private bodies, including the Arts Council England, and donations.
Copenhagen's Little Mermaid was created in 1913 to celebrate the fictional heroine of Hans Christian Andersen's fairytale.