Anti Cuts Thanet takes lost 1970s banner on march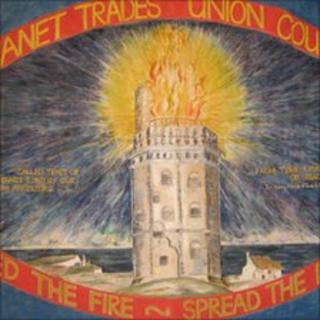 A banner that was made for trade unions in Kent in the 1970s and was thought lost has been taken on the anti-cuts march in London.
The banner was originally designed for Thanet Trades Union Council (TUC) by an artist based in Broadstairs.
After the Thanet TUC ended its operation, the banner was thought lost.
But campaigners from Anti Cuts Thanet tracked it down by appealing at local trade union meetings and took it to London on Saturday.
The march through the capital was organised in protest at the coalition government's spending cuts.
The Trades Union Congress predicted more than 100,000 people will join the demonstration.
Filiz McNamara, a retired health worker living in Broadstairs, said she would be proud to walk behind the banner.
'Cuts are necessary'
She said: "It is an impressive piece of work, and will certainly make an impact.
"People from Thanet, whether they are trade unionists or not, should all feel good to walk behind this banner. It's great news that the banner has been found and will be with us on the march."
Ms McNamara appealed for people from Thanet to join in the march and added: "The government cuts are going to hit the poorest parts of the country worst, so Thanet is going to be particularly badly affected."
Ministers have said the cuts are necessary to fix the public finances and critics must come up with an alternative.
The banner carries the slogan: "Thanet Trades Union Council - Feed the Fire, Spread the Flame."
A smaller caption on the banner reads: "Called Tenet or Tanet Lond by our Saxon ancestors. From Tene, a fire or beacon."