Working hours review at Manston Airport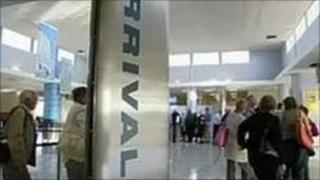 Working hours of staff at Manston Airport are under review.
Bosses at the east Kent airport, which employs 117 people, have said working arrangements do not match current business activity.
Charles Buchanan, chief executive of airport owner Infratil, said that the review was not about creating redundancies.
He said the firm was looking at costs but could not say what the outcome would be until the end of the process.
Mr Buchanan said: "We are consulting with staff about the way we deploy them and the way we ask them to work.
"Over the years, the pattern of activity at the airport has developed and no longer matches the way we have our staff coming to work.
"So we need to consult with them about changes in the hours of work that they undertake and the terms and conditions that they are working under."
When asked about potential job losses, he said: "Clearly, we're going into a process of consultation here which is looking at our costs.
"We're also looking at our external contracts and seeing what we can bring in-house and thereby possibly creating more positions.
"But until we get through this process, we don't know what the outcome will be."
Mr Buchanan added: "I cannot rule anything in or out but it is absolutely not the ambition of this process to create redundancies.
"This is absolutely to look at making the airport and its working practices fit for the future so that we have a sustainable business going forward for the upturn of traffic that we're anticipating."
This month, the airline Flybe said it was scrapping flights from Manston to Manchester Airport because of low passenger demand.
But it said it would introduce a new route from Manston to Belfast City Airport, which would run three times a week.