Kent Police given £4m in bonuses and extra payments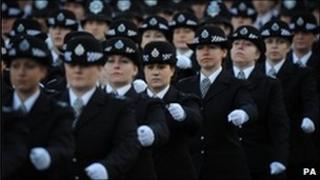 Kent Police officers and staff have received almost £4m in bonuses and extra payments this financial year, the BBC can reveal.
The release of the figures comes after the force said it would need to cut 1,500 jobs and save £50m in the next four years.
Kent Police Authority (KPA) said many of the payments were based on legally-binding police pay agreements.
An independent nationwide review has already called for an end to them.
Former UK rail regulator Tom Winsor, appointed by the Home Office to lead the review, also suggests suspending chief officer and superintendent bonuses.
'Financial challenges'
Mark Gilmartin, KPA's chief executive, said: "We want to make it quite clear the authority did not award any chief officer bonuses last year.
"For fairly obvious reasons the wider economic climate and financial challenges facing policing meant it would have been wholly inappropriate to have made performance related payments."
However, KPA did give 10 senior officers a combined total of more than £35,000 in Performance Development Review payments, awarded for exceptional performance.
Special priority payments to 1,534 recipients accounted for £2.2m according to the figures, released to the BBC under the Freedom of Information Act.
These can be paid to those taking on more responsibility or to stop officers moving to higher-paid jobs with the Metropolitan Police.
Another £1.5m was spread between 1,489 employees under the Competency Related Threshold Scheme.
To qualify officers under superintendent rank must have served at least a year at the maximum pay scale and demonstrated professional competence and commitment to the job.
A KPA spokesman said both allowances are contracted payments agreed with the Police Negotiating Board, which negotiates pay deals for all UK officers.
The authority's total special payments bill has fallen by about 16% in the last five years, from £4.6m in 2006 to £3.9m this year.
The second part of Mr Winsor's review, which he says will produce savings of £485m in three years, is due to be published in June.