Sheerness bird thefts spark security warnings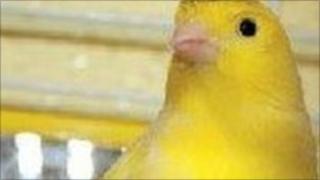 Bird owners have been warned to be vigilant after a spate of bird thefts in a town on the Isle of Sheppey.
Kent Police said there had been four incidents in Sheerness in the past month, which brought the total this year to six.
Thirty canaries were taken in one theft on 18 March and seven on 24 March.
Offenders also took up to 70 budgies in an incident on 19 March. They also targeted a chicken run and took two cockerels and a hen on 21 March.
In January, a large quantity of Red Factor canaries and diamond doves were taken from an aviary in Alexandra Road. The same site was targeted again a month later, with birds stolen including Zebra finches.
Det Con Gary Seamark urged aviary owners to consider additional security measures such as sensor lighting or CCTV.
He said the offenders usually struck during the night.