Kent's children's services action plan criticised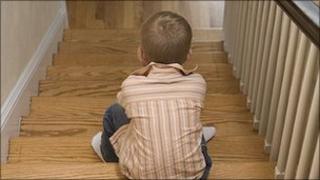 Kent County Council has defended its handling of children's services after councillors criticised its action plan following an Ofsted report last year.
One backbench Conservative councillor said officials had "a cat in hell's chance" of meeting demands to improve services for vulnerable children.
The Conservative-run council was criticised at a meeting of its children's services scrutiny committee.
Kent County Council said safeguarding children was its "top priority".
An Ofsted report in November concluded children in Kent had been left at risk of significant harm by inadequate services in almost every area.
It prompted a public apology from council leader Paul Carter, who said the council had not been rigorous enough.
At the scrutiny committee meeting on Wednesday, Conservative council members expressed concern the council would not be able to meet Ofsted's requirements.
'Isolated incident'
Councillor David Hirst said "the immensity of the task" had left him feeling "a bit over-awed".
"It just comes home occasionally how far we've got to travel before we can begin to say that we are getting on top of it," he said.
Councillor Kit Smith said: "I don't see from what we have here how we have a cat in hell's chance of delivering that [improvement] within the time scale."
The Ofsted report came after a previous damning report into the killing of 25-day-old baby Tiffany by her father Christopher Sellman.
It found a number of opportunities were missed by Kent Social Services and concluded her death could have been prevented.
The council maintains it was an isolated incident and said it had an improvement plan with clear targets and deadlines.
'Watching very carefully'
Deputy head of children's services, Jenny Whittle, said "safeguarding children and turning around the service" was the council's top priority.
"Along the way there will be frustrations," she said.
Liberal Democrat councillor Martin Vye said: "I wouldn't subscribe to the view that we haven't got a cat in hell's chance.
"Failure is not an option."
He added: "The administration missed a trick by not getting the targets out before the major scrutiny committee meeting.
"I shall be watching very carefully."
Labour councillor Elizabeth Green said: "I certainly share concerns about this service, like others I hear a lot of talk but not yet any firm action.
"The hierarchy at Kent County Council were well aware of problems, long before the Ofsted report, and failed to address them.
"Importantly councillors should have been informed."
She added: "Things need to turn around quickly and this is going to need long-term investment, not a quick fix, which will be made more difficult by the massive government cuts."
BBC South East's Political Editor, Louise Stewart, said Kent County Council had drawn up a detailed improvement plan and was recruiting senior social workers.