Two new tiger cubs arrive at Wingham Wildlife Park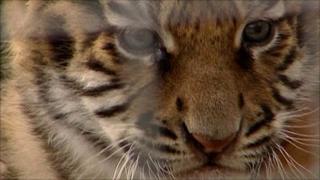 A Kent wildlife park has welcomed two rare fluffy young residents who arrived in the county by ferry at Dover.
The three-week-old tiger cubs were rejected by their mother in a Belgian zoo, and Wingham Wildlife Park jumped at the chance to give them a home.
The two male cubs are being bottled-fed by park owner Tony Binskin and his staff.
"Taking care of these young cubs is hard work and much like having a baby," he said.
The cubs arrived on the ferry from Calais, and, after the passengers had disembarked, staff from the park collected the cubs in their Defra approved quarantine vehicle.
Conservation policy
Tigers are becoming very rare in the wild, with the estimated global population ranging from 3,000 to 5,000.
"We have an extensive education and conservation policy in place which work hand in hand to educate people about the plight these animals face in the wild," said Mr Binskin.
The staff have a hectic schedule to make sure the youngsters are growing well, being kept fed, staying clean and not getting bored.
The two male cubs are still in their indoor enclosure, but from Saturday will be taken outside for half an hour at a time.
Mr Binskin said: "The change in their size, appetite and attitude has been phenomenal and they have really settled in to life at Wingham Wildlife Park incredibly well."