Campaigners celebrate 'at risk' Kent dockyard purchase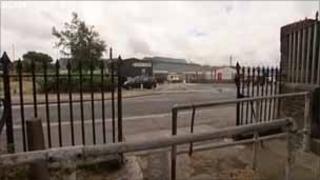 Campaigners are celebrating a "heritage rescue" after buying part of a 19th Century Kent dockyard for almost £2m.
The four-acre site in Sheerness, which contains 10 listed buildings, had been earmarked for flats by developers last year, but the plans were turned down.
Spitalfields Historic Buildings Trust has bought the 1820s naval officers' residential quarter for £1.85m
The trust says this will protect one of the most important and endangered historic sites in the South East.
'Magnificent site'
Spitalfields trustee William Palin, who lives in nearby Naval Terrace, said the plan was to repair and restore the Georgian properties as individual houses.
Mr Palin, who is also secretary of Save Britain's Heritage, added: "This is one of the greatest heritage rescues of recent years, and proof that viable conservation solutions can be found for even the most difficult historic sites.
"Spitalfields Trust has managed to assemble a group of sympathetic and passionate investors who will return this magnificent site to its former glory."
The buildings include Regency Terrace, a row of five houses, and Dockyard House, built for the chief superintendent of the yard and later converted to offices.
Plans to convert the buildings into flats were thrown out by Swale Borough Council last year.
Councillors said the new development detracted from the character and setting of the listed buildings and conservation area.
Church concerns
Despite campaigners' latest success, there are still concerns over the dockyard's church, which developers want to turn into 22 flats and five terraced houses.
Spitalfields Trust has tried to buy the derelict building, but its offer was rejected.
Mr Palin wants to turn it into a community building which could house a large-scale model of the dockyard made in the 19th Century.
The dockyard has been on English Heritage's national at risk register for almost 10 years, and in 2009 it was added to the World Monuments Fund's international Watch List of endangered historic sites.