Unpaid tax bill closes Margate's Thanet Press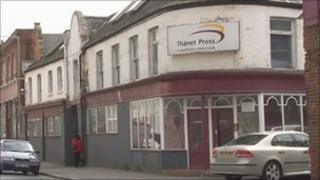 An unpaid tax bill of more than £100,000 has led to the closure of a Kent company with the loss of 74 jobs.
Thanet Press, which printed leaflets and magazines, was originally founded in about 1770, and is one of Margate's oldest companies.
It had wanted to pay the money it owed over 15 months, but HM Revenue and Customs (HMRC) called in the debt.
HMRC said it allowed companies to repay unpaid tax if the timescale was reasonable.
It said it did not comment on individual cases.
Last-ditch talks
The Conservative MP for North Thanet, Roger Gale, said HMRC should have been more understanding.
"More talking could and should have been done, and I do think that there is something here worth saving that could have been saved.
"I have a feeling that by closing it in the long run it's actually going to cost the country more."
Mr Gale had been involved in last-ditch efforts to try to save the company.
No-one from Thanet Press was available for comment.