Sewage spill into Newmill Channel stopped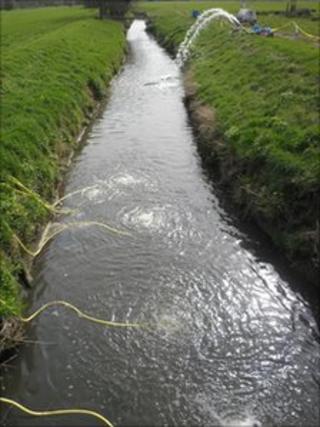 A sewage spill into a Kent river has been stopped but the clean-up operation is set to continue for several days, the Environment Agency has said.
Officers were called to the Newmill Channel in Rolvenden, near Tenterden, on Friday after Southern Water reported a spillage from a sewage plant.
The Environment Agency said the pollution had now been stopped but sewage remained in the watercourse.
People have been warned they and their pets should keep away from the water.
Inquiry continues
Environment Agency spokesman Michael Turner said the situation was improving and oxygen levels in the water had increased.
Tenterden Waste Water Sewage Treatment Works was also now discharging treated effluent within safe limits, he added.
He said staff would be conducting surveys to assess the impacts of the pollution and would remain on site until the sewage had dispersed.
Southern Water said the cause of the problems at the plant was still under investigation.
A statement issued by the water company said tankers had been used to remove wastewater from the works to reduce the impact on the watercourse, and work would continue to ensure there were no further leaks.
The firm also said it contacted the Environment Agency immediately after the spillage and began an operation to protect and restore the environment, which involved pumping oxygen into the water to help save fish and wildlife.