Howletts Wildlife Park celebrates rare gorilla births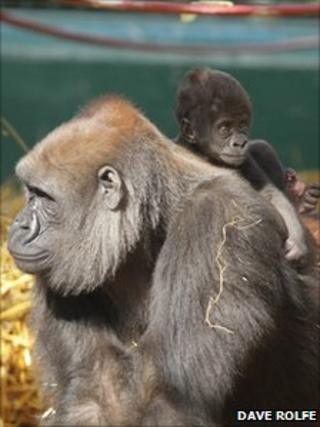 A Kent animal park is celebrating the birth of two critically-endangered Western lowland gorillas.
The two babies were born at Howletts Wildlife Park and are part of the largest captive collection of the endangered animal outside Africa.
The first infant, a male, was born on 31 January and has been called Jouki.
Keepers said they had not yet been able to examine the baby born on 22 February, but believe it is male and called it Bou.
Lorna Wanless, head gorilla keeper, said: "Gorillas sadly face a very real threat of extinction in the wild so we are delighted by these most recent arrivals.
"They are the 128th and 129th gorillas born at our parks since our first birth in 1975."
Female gorillas first breed when they are 10 years-old and give birth every four to five years.
The Western lowland gorilla is critically endangered in the wild with estimates of between 50,000 to 150,000 individuals remaining.
The Aspinal Foundation's parks at Howletts and at Port Lympne, also in Kent, run a captive breeding programme and house almost 80 Western lowland gorillas.
The foundation has reintroduced 51 gorillas into its African reserves in Congo and Gabon, including seven born in Kent.