Tom Williams and the Boat tour their debut album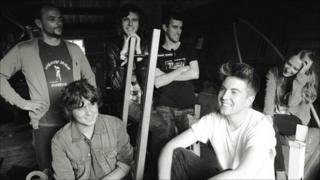 Six-piece band from Tunbridge Wells, Tom Williams and the Boat, released their debut album Too Slow at the end of February 2011.
From Saturday 9 April the band are on a nationwide tour. Before they hit the road, Tom Williams answers some questions about the band:
Who are Tom Williams and the boat?
It's Tom Williams on acoustic guitar and vocals, Ant Vicary on electric guitar and backing vocals, David Trevillion on drums, Josh Taylor on bass, Chris Stewart on keys and Geri Holton on violin and sax.
What kind of music do you make?
We make a kind of pop rock noise hinged round quite strictly constructed songs. It's obviously quite difficult for me to answer that question but when I say rock I mean more Crazy Horse and The Band so quite classic rock references I think.
Our sound is changing all the time however which is exciting for us, you can hear a real progression from our early EPs in 2007/8 to the latest tracks that eventually appeared on our album.
How did you get together initially?
We all met in a club in Tunbridge Wells called The Grey Lady. It was at an acoustic night run by Paul Dunton who does a lot for the local music scene. A couple of us were playing in other acts, and we formed a kind of coalition! Others were fans of the others, and some were friends of friends.
What other artists do you admire?
I personally admire acts that achieve on their own terms; bands like Pavement, Pixies, The Band, Neil Young, Bob Dylan, and Bruce Springsteen. I also really appreciate bands who have managed to make commercial breakthroughs with certain songs without compromising anything of their less commercial material, something which all the aforementioned acts have done...there are many many others of course.
BBC Kent Introducing has featured you a number of times, what's it like having this kind of radio show helping to raise your profile?
The BBC Kent Introducing team has been fantastically supportive to us over the last couple of years, they've played our demos since 2007 and still continue to do so. They really are a fantastic platform for new bands to gain exposure on national radio and enable them to find a bigger listening audience, massive thanks to Tom Kirby, Jim Bursey and Jacob Rickard.
You've been getting some national press coverage too - what's that been like?
It's been really fantastic, it's all about trying to get the music heard by more people than just your mates so anything which facilitates that is fine by us!
Where in Kent do you like to playing gigs?
We mainly play at the Tunbridge Wells Forum and The Grey Lady. We've played further afield in our time obviously but those are our hometown venues and where we've been playing for longest.
What has Tom Williams and the Boat got planned for 2011?
We plan to release more singles off our album, play lots of festivals in the summer, tour in April and start the recording of our second album which is already under way.