Kent conductor champions 16th Century composer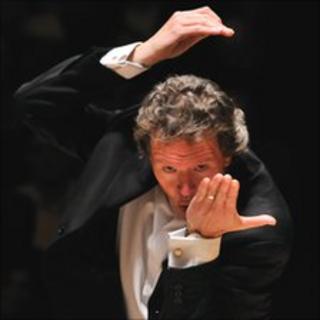 Conductor Harry Christophers from Goudhurst is taking his passion for music of the Renaissance on a tour of the country.
Mr Christophers conducts his choir, known as The Sixteen, singing 16th Century music in what he describes as "the buildings it would have been written for" such as churches, cathedrals and abbeys.
Mr Christophers said: "There's something about hearing wonderful music of the 16th Century being sung in these glorious buildings. People can sit and soak up the atmosphere and also the music."
Harry Christophers' performances of 16th Century music started as a one-off project in 2000 to mark the start of a new millenium.
Tomas Luis de Victoria
This year, to mark the 400th anniversary of the death of Spanish composer Tomas Luis de Victoria, Harry Christophers and the choir are performing music by Victoria including his composition Hail Mother Of the Redeemer.
According to Mr Christophers, Tomas Luis de Victoria is "one of the towering figures of Renaissance but he deserves to be better well known.
"A lot of this music is other worldly. I think everybody realised what great music it was.
"You've got to remember that for composers in the 16th Century their main was for the church. There were no concert halls, no opera houses about.
"These composers, like Victoria, they were the Beethovens and Brahmses of their day."
The Sixteen's tour comes to Kent in September at All Saints' Church, at Boughton Aluph, near Ashford on 3 September at 7.30pm.
Harry Christophers talks to Martin Buchanan on BBC Radio Kent's Sunday Programme on 10 April 2011.