University of Kent to charge £9,000 fees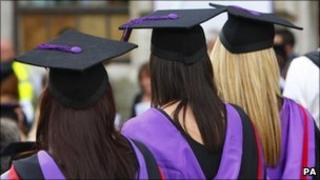 Students at the University of Kent are to be charged the maximum fee of £9,000 a year from 2012.
The university said the fees charged to UK and EU undergraduates were necessary if it was to continue to offer high-quality teaching and facilities.
It said it would increase fee waivers, bursaries and scholarships to support students from a range of backgrounds.
In total, 30 universities have declared their fee levels for next year, with the majority planning to charge £9,000.
They include Kent's neighbouring universities of Surrey and Sussex.
"If we are going to sustain the university in the way that we believe we need to and the students would like us to then we are forced to charge £9,000," said Deputy Vice Chancellor Professor Keith Mander.
"As a research intensive institution the university believes that this level of fee will allow us to honour the commitment we have to deliver high quality teaching into the future."
He said the money to provide additional help to poorer students would come from savings made elsewhere.
"For the last three to four years we have had a programme of applying relatively small cuts right across the board and that's put us in quite a good position to manage this transition.
"We do have a bit of cash that we can use."
University fees declared so far are listed in the table below. Please send further updates to educationnews@bbc.co.uk