Laser pen man jailed for endangering police helicopter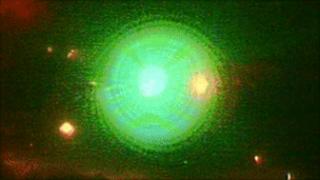 A 21-year-old man has been jailed for eight months after admitting endangering a police helicopter by shining a laser pen at the aircraft.
Jarome Tomlinson, of Kewlands, Maidstone, shone the light at the Kent and Essex police helicopter on the evening of 24 June 2010.
The pilot had to remove his hand from the controls to shield his eyes, Maidstone Crown Court was told.
As he tried to fly away from the light, the aircraft was deliberately tracked.
Kent Police said the helicopter was carrying out a search mission in Maidstone town centre when the incident took place.
Tomlinson was arrested after the crew directed police patrols on the ground in the direction of the light.
He pleaded guilty to recklessly or negligently acting in a manner likely to endanger an aircraft.
"The consequences could have been far more serious, but for the skills of the pilot," said Acting Supt Nicola Faulconbridge.
"It is testament to his flying skills that he maintained control of the craft but it endangered not only the crew, but those below in Maidstone town centre."
Judge Charles Macdonald said Tomlinson had shown genuine remorse, but the jail sentence would be a deterrent to others.