'Carnage' as four injured in Cranbrook crash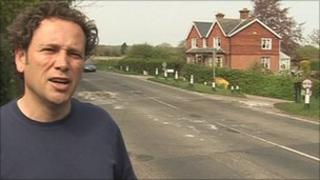 A resident who rushed to the scene of a car crash in Kent in which four people were injured has described it as "absolute carnage".
The accident, between a Citroen and a Volvo, happened on Friday night in Rye Road, Cranbrook.
Firefighters at the scene put out a blaze when one of the cars caught fire and rescued a woman passenger who was trapped in one of the vehicles.
Both drivers and two passengers were taken to hospital.
Three people went to the Kent and Sussex in Tunbridge Wells, while the fourth was flown to Brighton by air ambulance.
One had a broken leg and the others cuts and bruises.
"Both cars were completely caved in and there was lots of screaming and shouting," said resident Michael Jacques.
"It was a really distressing scene.
"There's been a number of serious accidents here, with a lot of property damage.
"People have been lucky to get away without serious injuries. In three years there have probably been about nine or 10 accidents."
The road was closed until 0100 on Saturday morning to allow highways workers to removed debris and oil left by the crash, at junction with Stone Pitt Lane.