Boy, 14, dies after canoe capsizes on River Medway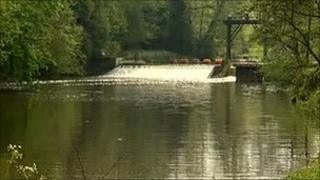 A teenager has died after he got into difficulties while canoeing with a friend on the River Medway in Kent.
The two boys had taken their canoes to the weir at Teston Lock, near Maidstone, when one canoe capsized at 1120 BST on Sunday, Kent Police said.
The 14-year-old boy's canoe then got into difficulties and he was unable to roll and right himself in the water.
His friend tried to save him and got him out of the canoe but was unable to pull him out of the water flow.
Resuscitation attempts
The teenager, who was believed to have been in the water for some time, was pulled to shore and treated by land and air ambulance paramedics at the scene.
Kent Police and Kent Fire and Rescue Service also attended the incident.
Paramedics continued resuscitation attempts on their way to Maidstone Hospital but were unable to revive him and he was pronounced dead.
The other boy was not hurt.
A spokeswoman for Kent Police said the parents of the boy who died had been informed.
The name of the teenager, who was from Hunton, has not yet been released.
A post-mortem examination is expected to take place on Tuesday.