Kent Police apologise to blinded man over blunder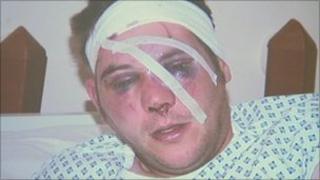 Kent Police have apologised to a man left blind in one eye, admitting their lack of action may have helped his attackers escape punishment.
Peter Cox, 34, of New Romney, Kent, was severely injured when he was punched and kicked in the head by youths.
As he was being treated at the scene in Fairfield Road, two officers arrived but left again without intervening.
Five people were later arrested but police said they were unable to charge them due to a lack of evidence.
Now Kent Police have apologised to Mr Cox, admitting that if the officers had "performed their duties", it would have greatly increased their chances of finding those responsible.
They say despite extensive inquiries, they have not been able to identify the officers who turned up at the scene but then drove off without getting out of their car, saying: "It's not our shout."
'It is betrayal'
Mr Cox suffered a broken nose, fractured jaw and fractured eye socket in the attack by a gang as he walked home in August 2009.
At the time, he said the attack had had a huge emotional effect on his whole family and urged witnesses to come forward.
After receiving the apology, Mr Cox said: "I have no faith in the police any more. If that is how they can treat people, drive off and not even... well, to me it is betrayal.
"When you put your trust in the police and even the police can let you down, it does make you start questioning everything else around you."
Police have sent the family a written apology and said that if the officers are subsequently identified they would be referred for misconduct proceedings.