Celebrations mark Sweeps Festival in Rochester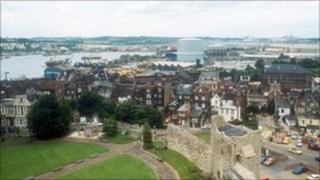 Thousands of people have attended a three-day May Day celebration in Rochester, Kent.
The Sweeps Festival, which is now in its 31st year, brings together folk and traditional dance groups from across the country.
It takes its inspiration, name, and May date from the holiday traditionally given to boy chimney sweeps.
Organisers said it was one of the largest May Day festivals of its kind in the country.
The programme included Morris dancing, folk music, a procession through Rochester, and a Jack-in-the-Green awakening ceremony which is a traditional welcoming of May.