Whitstable gallery hosts nude postcards exhibition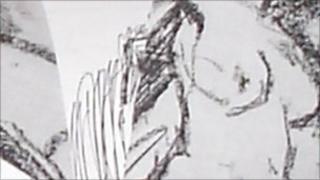 An exhibition of nudes on postcards sent by members of the public has opened in a Whitstable art gallery.
The Horsebridge Centre has created the Post Nude exhibition to coincide with the launch of a new gallery.
Curator, Sarah Banville, said: "There has really been a lot of warmth and excitement about the exhibition, and lots of very positive feedback."
The 530 postcards in the exhibition were all delivered to the gallery by the Royal Mail.
Artwork has come from India, Finland and America as well as from artists in Whitstable and across Kent.
The gallery received 570 pieces by post, including 108 which were delivered in one day.
"It started with only two on the first day and I was quite nervous," said Ms Banville.
"Gradually it took off and word got out. Only two postcards were unsuitable for public display."
Knitted nudes
The gallery has received a wooden postcard complete with postmark, and several knitted and sewn nudes, as well as painted, printed and drawn works.
Naturists had also sent in photographs welcoming the celebration of the human form.
Each work is on sale for £20, and all have been scanned by the gallery for possible inclusion in a book. Works not sold will be returned to the artists.
The show runs at the The Horsebridge Arts and Community Centre from 1 to 31 May.