Derelict Dover listed building to be renovated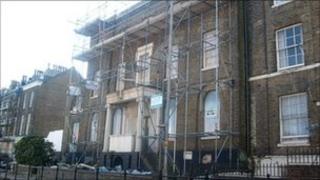 A derelict listed building in Dover, which has been targeted by vandals, is to be renovated.
The three storey building in London Road has stood empty for more than four years.
Under Kent County Council's No Use Empty scheme, the property's owners received a loan of £175,000 for the refurbishment of the house.
The project will create nine new homes and is due for completion in February 2012.
The No Use Empty initiative is a partnership between the county council and all 12 district and borough councils in Kent.
Under the scheme, which was set up in 2005, properties must be either sold or rented after completion and the loans repaid in full.
'Graffiti target'
The money is then recycled for another project.
A building in St Peter's, Broadstairs is to open on Friday after also receiving funding from the scheme.
The former bakery in Church Street had become a target for graffiti and was causing concern for local residents.
The project was started two years ago with the help of a loan of £50,000.
The cottage next door is also being renovated as part of the project to create a new two bedroom family home and is expected to be completed in October 2011.