Family tribute to woman hit by bus in Maidstone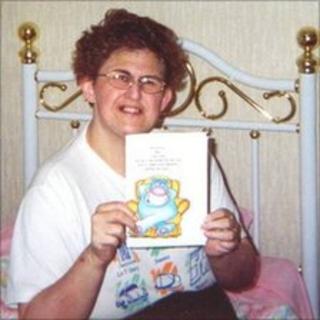 Tributes have been paid to a 44-year-old woman who died in hospital after she was hit by a bus in Maidstone.
Louise Friday, 44, from Maidstone, suffered serious head injuries when she was struck in London Road on Saturday.
She was airlifted to King's College Hospital, London, following the crash, but died shortly before 0300 BST on Thursday.
Her sister and brother-in-law, Janet and Derek Kemp, said she "lived to help others" and would be "sorely missed".
"Louise was a very much-loved sister, friend and auntie to Martin and Robert and will be sorely missed by everyone who knew her, " he added.
In a statement issued through Kent Police, her family said despite having learning difficulties Miss Friday lived a full and independent life.
'Fighting chance'
Mr Kemp also praised the work of all the emergency services and hospital staff who gave her a "fighting chance".
He said: "The Kent Air Ambulance took Louise from the scene of the accident to the Royal London Hospital and if there was ever a chance of her surviving, the air ambulance gave her that chance.
"Unfortunately right from the outset the prognosis was not good but the Royal London Hospital were also absolutely incredible and gave her a fighting chance.
"They were beyond praise. Louise needed several blood transfusions and we would also like to thank the people who donated their blood - they also gave her a fighting chance."
Miss Friday, who grew up in Larkfield, worked part-time for a scheme called Tuck by Truck in Quarry Wood for many years and also had a job in kitchen of the Pippin pub in London Road.
Kent Police have appealed for any witnesses to contact officers.