Sheerness firefighters rescue 15 ducklings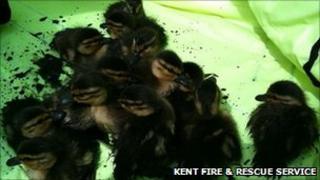 Fifteen ducklings have been reunited with their mother after firefighters rescued them from a drain in Kent.
A passer-by saw the duck sitting on top of the drain in Brielle Way, Sheerness, with her youngsters floating on the water below.
Firefighters lifted the drain cover and removed the ducklings one by one.
Sheerness station manager Stuart Beadle said the ducklings were placed carefully on a grass bank and then reunited with their mother.
He said: "It appeared that one of the ducklings had made their way down the drain and the others followed.
"At first the mother duck wouldn't let me anywhere near because she was protecting her babies, but it was clear her brood needed help."