Five trees are dug up and moved in Kings Hill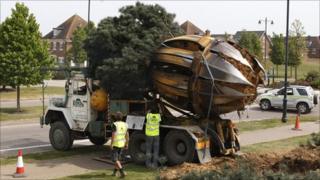 Five Kent trees have been moved half a mile to save them from being felled.
Four flowering cherries and one pine tree were dug up using a special machine and replanted in Kings Hill.
Developer Andrew Blevins said planning conditions relating to the expansion of the central shopping area meant the trees had to be moved.
The development plans for Kings Hill, on the site of a former airfield, also include the refurbishment of the Art Deco control tower.
A tree spade machine - which has large petal-shaped prongs to dig deep underneath the tree - was brought in to carry out the operation.