Vestas turbine plant in Kent could create 2,000 jobs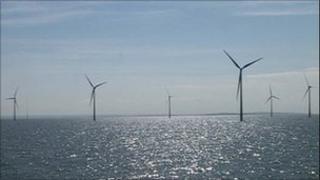 About 2,000 jobs could be created in Kent by a Danish wind turbine maker.
Vestas, which supplies 40% of the world's offshore turbines, is applying for planning permission for a new plant at Sheerness Dock.
But the company said the development would be subject to receiving enough turbine orders.
Anders Soe-Jensen, president of Vestas Offshore, said: "It is evident that we don't just jump head first into an investment of this size."
Vestas said it needs the facilities to produce its new generation of larger turbines and had signed an agreement for 70 hectares of land on the Isle of Sheppey.
The company expects to create more than 2,000 direct and indirect jobs - provided the turbine orders "materialise as expected".
But Mr Soe-Jenson said he was concerned by the report by the independent Committee on Climate Change, published on Monday, which suggested ministers should slow down plans to build more offshore wind farms.
"It is not helpful to our plans," he said.
"We are looking forward to seeing the UK Government providing the best possible terms for the offshore wind industry.
"Vestas has shown our willingness and commitment to making major investments benefiting the UK, but Vestas alone cannot make it happen."
Although these expansion plans relate to offshore wind turbines, the firm's onshore wind operation was at the centre of controversy two years ago when it closed a site on the Isle of Wight.
The plant, which employed 425 people, made onshore wind turbines which the firm said had been affected by a slump in demand in the US market.
It finally closed after some of the sacked staff staged a 19-day sit-in at the plant.