Calls for Pfizer to fund job loss advice line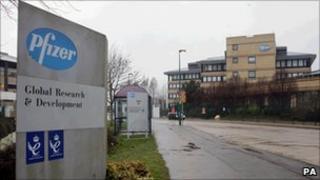 The Citizen's Advice Bureau (CAB) is calling on Pfizer to fund an advice line for those staff affected by the closure of its plant in Sandwich.
In February, the company announced its intention to leave the site with the loss of 2,400 jobs.
Jan Stewart, from Dover CAB, said: "In the past when Pfizer have made redundancies they have approached us to help and directed the employees to us.
"It is important that we give people the help they need immediately."
Those directly employed by Pfizer will be helped by the company, but the CAB's concern is for the 900 contract workers.
In addition to a shortfall in its own funding, the CAB cites the impact of a loss of volunteers, many of whom are employed by Pfizer.
'Support service'
There is also the ripple effect on local businesses, hotels, restaurants and shops, "that were established because Pfizer was there", said Ms Stewart.
"When Pfizer closed its site in Detroit, USA, the company set aside a $1m fund to help local charities and we're hoping they're going to do the same thing here."
Pfizer said it had awarded grants to more than 60 charities including the Citizens Advice Bureau under its community grant exit programme.
A spokeswoman said the company had also contracted a specialist agency to provide a "comprehensive support service for staff".
On Wednesday Pfizer announced that it had put its 325-acre (132 hectare) research and development campus in Kent up for sale.
The site includes laboratory and office space as well as sports and leisure facilities and development land.
Nick Compton, from CBRE who are marketing the site, said: "Given the diversity of buildings facilities and land at the site, we expect to attract occupiers from a range of industries and from the investment and development sectors."