Darent Valley hospital cuts staff parking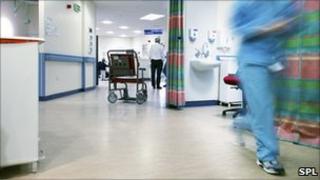 Hundreds of staff at a Kent hospital are to lose their parking permits to ease a severe shortage of spaces for patients and relatives.
Darent Valley Hospital at Dartford is to cut the number of permits from 2,700 to 2,000 from the end of August, giving priority to shift workers.
Parking problems have increased with the growth of the hospital, which opened in 2000.
Chief executive Susan Aycott said it had to put patients' needs first.
The hospital employs 2,386 staff in total.
Patients have said they have to leave home an hour early to be sure of being able to park at the hospital and face long queues even to get in the car park.
'Very long queues'
Darent Valley had an influx of extra patients after Queen Mary's Hospital in Sidcup shut its A&E and maternity services last year.
"We have had a very significant increase in patients coming to this hospital since January and they have visitors and people who accompany them," said Ms Aycott.
"We have had to take on more staff to manage those extra patients and it has tipped our car park over the edge of our capacity.
"We have had these very long queues and have had to prioritise our patients.
"I am sorry that the outcome will be problematic for a minority of staff, but I hope they will understand our dilemma."