Exhumed Baby April reburied after DNA profiled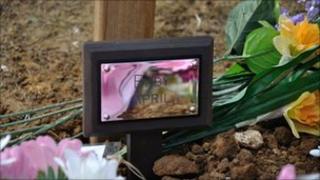 The body of a baby girl exhumed as part of a Kent murder inquiry has been reburied after a full DNA profile of the child was obtained.
An investigation into the death of the newborn, named Baby April, was reopened in March, 16 years after the body was found near Singleton Lake in Ashford.
Officers from Kent and Essex cold case team attended a private burial at Bybrook Cemetery on Thursday.
They have appealed for the baby's mother to contact police.
"The forensic examination is now complete and we have therefore left Baby April to rest in peace," said Det Insp Dave Withers.
'I am really pleased with the progress of this investigation so far. With the help of our forensic science providers, we now have a full DNA profile of the child.
"Our next step is to identify the parents of the baby."
Baby April's body was found by a couple walking alongside the lake on 3 April 1995.
She was wrapped in a Kleenex toilet tissue bag inside a Motaworld carrier bag.
A murder inquiry was launched at the time but the parents of the baby were never identified.
The baby weighed 7lbs and is believed to have been born between 26 March and 3 April 1995. A post-mortem examination showed she had died of asphyxiation.
Det Insp Withers said potential suspects could now be excluded with a DNA test and he wanted to hear from anyone who may have information, particularly baby April's mother.
"We want to hear from you and hear your side of the story," he said.
"We understand you may be worried or frightened by what happened, you may have been a young girl at the time and you may not have been alone.
"I urge you to contact me, I have specially trained staff who you can speak to.
"They will listen to what you have to say and you will be dealt with sensitively and compassionately."