Kent wildlife parks celebrate 130th gorilla birth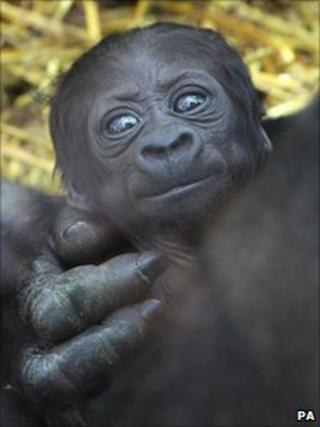 Two sister wildlife parks in Kent have celebrated the birth of the 130th gorilla at one of their sites.
The unnamed ape, thought to be female, was born to mother Kishi and father Djala at Port Lympne Wild Animal Park.
A park spokesman said an average of three-and-a-half baby gorillas had been born at Port Lympne or its sister site Howletts every year since 1975.
The centres' 128th and 129th babies, Jouki and Bou, arrived at Howletts in January and February.
Head gorilla keeper Phil Ridges said: "It is absolutely fantastic to welcome our 130th gorilla birth at the parks in just over 35 years.
"It works out at an average of three-and-a-half baby gorillas a year since our first birth in 1975, so we are doing well."
The newborn gorilla is being housed with 12 other apes at Port Lympne's Palace of the Apes.
Earlier in the year the park's 21-year-old gorilla Ambam shot to fame when footage showed him walking upright like a human was posted on YouTube.
More than five million people have viewed two videos of the Silverback on his hind legs at Port Lympne.
Staff believe he uses it as a height advantage when looking for food.