Dover port announces £85m ferry terminal revamp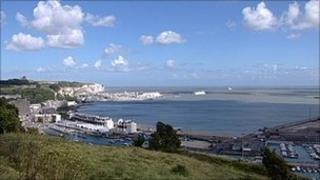 A multi million-pound investment plan to revamp the ferry terminal at a Kent port has been announced.
The Port of Dover said its Eastern Docks ferry terminal would receive a major upgrade by 2015 under the £85m capital investment proposal.
Officials said the programme would take place ahead of larger plans to create a second ferry terminal at the Western Docks to double the port's capacity.
It comes seven weeks after the people of Dover voted to buy the port.
Dover Harbour Board's plan includes improvements to boost the port's capacity, pier extensions to cater for new super-ferries and major resurfacing work.
It said passenger numbers had increased in 2010, as more people used ferries while rail and air services were disrupted by the Icelandic ash cloud and heavy snow.
'Buoyant and optimistic'
The number of coaches using the port rose by 6.2%, to more than 86,000 over the year. There was also a 1.5% rise in tourist cars, to more than 2.8 million.
"Despite the tough economic climate, the port has seen growth in the tourist sector and the business is buoyant and optimistic," said Kate O'Hara, the port's head of marketing.
The plan to turn the former Hoverport at the Western Docks into a second ferry terminal with a new marina and four new berths was announced by the Dover Harbour Board in 2008.
In January last year the board, which has run the port as a trust since 1606, asked the government for permission to privatise it. A decision is still awaited.
In the meantime the residents of Dover formed Dover People's Port Trust which organised last month's referendum.
The campaign to turn Dover into a "people's port" won the backing of forces sweetheart Dame Vera Lynn.
Residents have been told they can become members of the trust for £10, with the rest of the funding for the £200m bid being raised in the City of London.