Margate's Turner Contemporary welcomes 80,000 visitors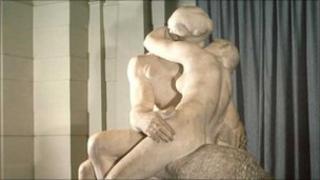 Kent's newest art gallery has welcomed nearly 80,000 visitors since it opened a month ago, exceeding expectations.
The Turner Contemporary in Margate said the figure was more than half the number expected in the first year.
Paul Gray, head of operations, said the weekends were generally busier, with local businesses also benefiting.
"But we've actually been pleasantly surprised by the figures for the week days... consistently being over 1,000 people, which is fantastic," he said.
Mr Gray said the visitors had been a mixture of local people, and people from further afield as well.
'Absolutely incredible'
He added that the gallery's cafe was also getting a "great local reputation" with some people regularly coming back throughout the week to use it.
Artist Tracey Emin, who grew up in Margate, described the number of visitors as "brilliant".
"That's absolutely incredible by any gallery's standard, by any museum's standard that's amazing, and it's in Margate," she said.
The Turner Contemporary is expecting a boost to its visitor numbers later this year with the arrival of Auguste Rodin's The Kiss, which will be on loan from the Tate collection.
The life-size marble sculpture of the embracing couple, which is worth £10m, will go on show in the Sunley Gallery between 4 October and 2 September 2012.