Chatham school is new home of HMS Formidable's flag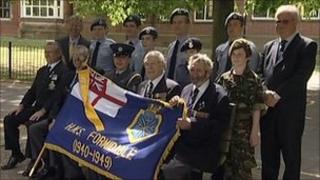 A Medway secondary school has accepted the colours of World War II aircraft carrier HMS Formidable.
Chatham Grammar School for Boys is giving the ship's flag a permanent home along with memorabilia from the HMS Formidable Association.
Also known as the ship that launched herself, HMS Formidable broke free of the slipway on the day of its launch.
Its standard was handed over in a ceremony at the school by veterans who saw action on board the ship.
Formidable is also the name of one of the six houses that pupils at the school belong to, all of which are named after famous ships.
The standard was handed over along with a number of documents and films that had been collated by the HMS Formidable Association, which is made up of veterans with connections to the 23,000-tonne ship.
HMS Formidable served in the Mediterranean, the Pacific and in the operation which sunk the German battleship Tirpitz. It was decommissioned in 1949 and scrapped in 1956.
One of the veterans at the ceremony was Danny Rackman, who was part of the torpedo crew on HMS Formidable. He recounted: "Kamikazes hit us three or four times. There were other dangerous times, she caught light, the whole hanger was flooded."
As the size of the membership of the ship's association decreases, Chatham Grammar School for Boys, with its strong links with maritime history, was considered a suitable home for the flag and memorabilia.
HMS Formidable veteran and former naval fighter pilot, Lieutenant Keith Quilter, said: "A parent got in touch with us and we thought, providing we can assure ourselves that the school would treat it with the respect it deserves, what better place could there be."
HMS Formidable was one of the Illustrious class aircraft carriers which were built in 1939 and 1940.
On the day of its launch in 1939 the structures supporting the ship on the slipway broke and HMS Formidable took to the water before being officially released.
The standard will go on display at the school.
Colin Field, deputy head teacher at Chatham grammar, said: "We are currently planning an archive room in the school where we will be able to more openly share much of the history of our school with our community."