Olympic flame visits Dover and Maidstone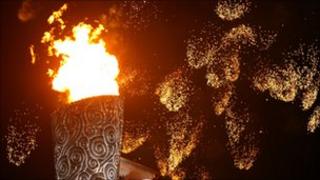 The Olympic flame will visit Dover and Maidstone during a UK relay ahead of the 2012 Games.
The flame arrives in the UK from Greece on 18 May 2012 and will be taken on an 8,000-mile relay, taking in the two Kent towns.
The torch will be in Dover on 18 July, 2012, before going to Maidstone the next day.
There will be evening celebrations in the towns to mark the arrival of the torch.
Paul Watkins, leader of Dover District Council, said he was pleased with the news, despite the fact the torch would not be starting its UK relay in the town, as it did in 1948.
"We are a little disappointed but we will make the most of it," he said. "I'm sure as the date comes nearer local people will be enthused by the Olympics and they will want to be part of this."
Mr Watkins said the town would mark the day with a series of events, including a big screen and possibly a fireworks display.
8,000 torch bearers
The Olympic flame will travel for 70 days on the Olympic torch relay route, before arriving at the Olympic Stadium in east London for the opening ceremony on 27 July, 2012.
The London Organising Committee of the Olympic and Paralympic Games (Locog) said it hoped about 95% of the population will be within a one-hour journey of the relay.
A nomination process will be used to pick the 8,000 torch bearers who will carry the Olympic flame around Britain.
Frank Verge, 85, of Ightham, Kent, was one of the torch bearers ahead of the 1948 London Olympic Games.
He said he remembered taking up the relay in the early hours of the morning.
"Of course it was dark," he said.
"I had the only light.
"But all through Borough Green, which was the first village, and especially where there were a lot of houses, there were masses of people out at the end and at the beginning.
"They all joined in, clapped and cheered. I felt I was somebody for five minutes."
He said one of the main concerns was to make sure the flame never went out.
Mr Verge added: "We had just come through six years of war, when everyone was killing everybody. Then you got these Olympic Games, which symbolised hope perhaps, for people getting together to enjoy themselves rather than fight each other."
In 1948, 72 torch bearers carried the flame from Dover to Wembley.