Kent cricketers honour Ashes first hero's Cobham grave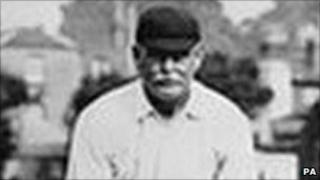 Kent cricketers have attended the rededication of the refurbished grave of the first English test captain to bring home the Ashes.
Ivo Bligh lived at Cobham Hall, now a private girls' school, and is buried in Cobham Church near Gravesend.
In 1882, he brought the original Ashes urn back to England from Australia.
The Cricket Society raised funds to refurbish Bligh's overgrown gravestone. Kent CCC captain Rob Key and teammate Geraint Jones attended on Wednesday.
The refurbishment cost £3,500 and donors included Sir Tim Rice, who is a vice president of the Cricket Society.
Ashes on mantelpiece
In 1882, England lost to Australia at the Oval and a mock obituary to English cricket appeared in the Sporting Times, saying the body would be cremated and the ashes taken to Australia.
Shortly after, the England team set off to tour Australia, captained by Bligh, who also played for Kent.
As well as the scheduled matches, Bligh played in many social games and it was after one of those games that he was presented with a little terracotta urn of ashes by the Melbourne woman who had hosted the game.
The urn was actually a perfume bottle and there has been much speculation over what it contains. Bligh brought it back to Cobham Hall and it sat on his mantelpiece for many years.
The story continues that a cleaner once knocked the urn over, spilling the ashes. She is said to have brushed some ashes from the fireplace back into the urn.
In his will Bligh left the Ashes to the Marylebone Cricket Club (MMC) and in 1929 his widow Lady Darnley presented it to the MCC at Lords, where it has remained ever since.
Visitors to Lords can see it at the MCC Museum.