Tunbridge Wells church hosts 24-hour Bible reading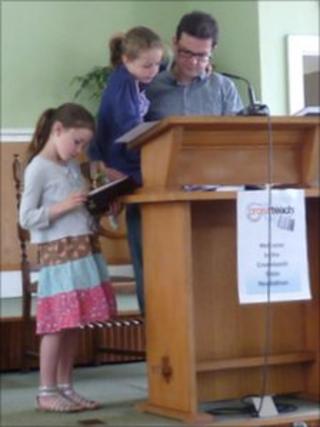 Volunteers from different churches in west Kent joined together to read the whole Bible aloud continuously over 24 hours.
Ninety-two people, from seven churches around Tunbridge Wells, read for 15 minutes each from the New International Version, starting at 1900 BST 20 May.
The reading, which took place at the Culverden Evangelical Church, was arranged by the Tunbridge Wells-based Christian charity Crossteach.
It marks the charity's 10th anniversary and also recognises the 400th anniversary of the King James Bible.
Crossteach, which works to enhance the teaching of Religious Education in schools and present the Christian faith to young people in a relevant way, currently works in 11 schools in west Kent.
Crossteach Tunbridge Wells team leader Jennie Dow said: "There was a great atmosphere. It was really good to have supporters from lots of different churches come together.
"We've raised about £1,400 so far for Crossteach from the reading but people have been sponsored so maybe a little bit more will trickle in."