One in 10 Kent criminals re-offend within three months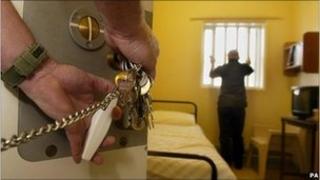 One in 10 Kent criminals are back before the courts within three months of being released from prison.
Last year 1,500 of the county's 16,000 adult offenders committed further crimes within this period, a rate which has been rising for about three years.
Critics of the prison and probation systems say not enough attention is paid to re-educating offenders to stop them getting into trouble again.
Kent Probation says it will do more to tackle criminals' attitudes.
The rate dropped slightly in the final part of last year and the probation service said it had seen a "significant drop" in the number of persistent offenders who go on to commit further crimes.
In a statement it added: "We are not complacent and in the next couple of months, Kent Probation is introducing a number of new requirements to tackle the attitudes, thinking and behaviour linked to offenders' crimes."
Not enough support
Bobby Cummines OBE was in and out of the prison system for 13 years and is now chief executive of UNLOCK, a Kent-based charity working with ex-offenders.
He believes criminals do not get enough practical help and advice during and after prison to change their attitudes and remove the incentives to re-offend.
"If you put a dog in a cupboard under the stairs and give it no training or love and affection, don't be surprised when it comes out and bites you," he said.
"Education was my liberation but my probation officer had time to work with me. He turned my life around.
"Now they've taken away the aftercare bit of probation and someone in their wisdom in the Home Office made the probation service a court policeman, who just enforces court orders."
Higher than predicted
The statistics, from the Ministry of Justice, show about 9.5% of criminals in Kent re-offended within three months of release in 2010. In Medway the rate was closer to 11%.
Last year's national average was also about 10% but Kent is one of only three areas, along with Merseyside and Hertfordshire, where rates have consistently and significantly exceeded the ministry's predicted levels for the last three years.
Aaron Marshall is Kent and Medway project co-ordinator for crime reduction charity Nacro and works with more than 100 young offenders across the county, many referred by their schools.
He said: "Some young people take a bit longer to re-engage but most of them are very remorseful and quite motivated.
"But I do think they find it difficult to find someone to give them support once they are a known offender."
'Badly wrong'
Justice Secretary Ken Clarke, who is proposing sentencing reforms, wants to introduce a system where probation services are paid based on their results.
He said previous measures to address re-offending had "gone really badly wrong" and wants more focus than ever on the causes of crime.
The stance was welcomed by Mr Cummines, who thinks shorter sentences for low-level offences, which account for about half of the country's prisoners, are ineffective because they do not prepare criminals for their release.
The former government adviser plans to use private investment to build alternatives to prisons which would focus on re-integrating criminals with society.
The Diamond Project proposes miniature communities for offenders with access to learning and training facilities, counselling services, police stations, shops and even accommodation.