Isle of Sheppey wind turbine factory gains support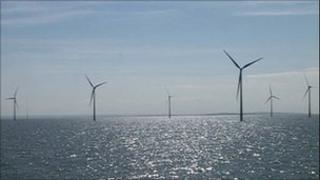 The energy minister has pledged government support to ensure a wind turbine factory in Kent goes ahead.
Vestas, a Danish firm, wants to build a plant at Sheerness docks on the Isle of Sheppey which could create 2,000 jobs.
The area's Conservative MP Gordon Henderson asked in the Commons what reassurances he would be given to make sure the project progressed.
Energy Minister Charles Hendry said the government was supportive and wanted to see the plans move forward.
'Able workforce'
Mr Henderson said the project was conditional on a number of factors, including the government delivering stability in the market.
In reply, Mr Hendry said: "I would reassure Vestas looking at the area that they are in, Sheerness, that they have a very dedicated and able workforce, an absolute champion in their local member of parliament and a supportive government that wants to see this move forward."
Vestas, which supplies 40% of the world's offshore turbines, has applied for planning permission for the factory.
The firm wants to produce its new generation of larger turbines at the site. It has signed an agreement for 70 hectares (700,000 sq m) of land.
Anders Soe-Jensen, president of Vestas Offshore, had said he was looking to the UK Government to provide the best possible terms for the offshore wind industry.
His comments came because of concerns over a report by the independent Committee on Climate Change which suggested ministers should slow down plans to build more offshore wind farms.