Wildwood's breeding red squirrels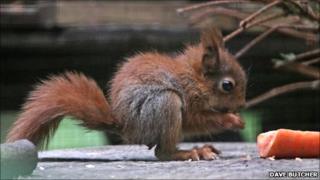 A Kent wildlife park is doing its bit to help the survival of Britain's red squirrel population.
Their latest young squirrels, born a month ago, are venturing out of their nest boxes for the first time at Wildwood, near Herne Bay.
When mature, they will be released on Anglesey as part of a conservation project to prevent their UK extinction.
The North American grey squirrel is more predominant in the country since its introduction in the 19th Century.
According to the Forestry Commission there are an estimated 140,000 red squirrels and 2.5m greys left in Great Britain.
Red squirrels are protected by lay, and are considered vulnerable in Britain.
Peter Smith, Wildwood Trust's Chief Executive said: "If we can help restore areas of woodland to a native state and make a concerted effort, we might just be able to tip the balance back in the red squirrel's favour."