Kent boy impaled on javelin at Ashford secondary school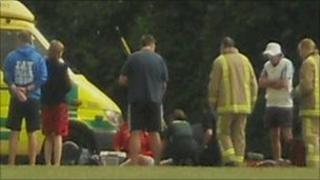 An inquiry is under way after a 14-year-old boy became impaled through his shoulder by a javelin at a Kent school.
Ed Stuckey was airlifted to hospital on Thursday after the incident at Norton Knatchbull secondary school in Ashford.
Fire crews cut off part of the javelin before the teenager was airlifted to hospital.
Head teacher Susanne Staab said her first concern was to make sure the boy was cared for but finding out what happened was now her absolute priority.
'Expected home'
The teenager was taken to a major trauma unit at a London hospital where he had surgery.
Doctors said he had no fractures or serious internal injuries and was expected to return home soon.
He was running on the track when the accident happened during a sports lesson, with between 60 and 90 other pupils also on the school field.
In a statement, the head teacher said: "My main concern was to make sure Ed was cared for and transferred to hospital as soon as possible."
She added: "The students, who were on the school field at the time, acted in a very mature and responsible manner, as I would expect of them."
Ms Staab said she met the Ed's family that afternoon and had kept in contact with them.
"My attention is now turned to establishing what happened and this is an absolute priority," she said.
Kent Fire and Rescue Service said emergency teams including firefighters and paramedics from South East Coast Ambulance Service were called to the school in Hythe Road at about 1535 BST.
A statement said: "Crews used specialist equipment - a small hydraulic hand tool - to help treat a child who had become impaled on a javelin.
"The child was subsequently taken to hospital via air ambulance."