Race threat mother backs Kent Police hate crime line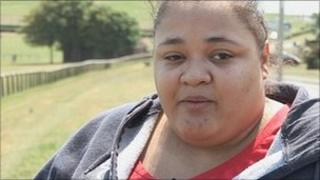 A mother said a racist threatened to kill her but she delayed reporting the phone call to police as she thought they would have better things to do.
Sarita Dhue, of Folkestone, received a call in which an offender threatened to petrol bomb her house, rape her, and cut up her child because of her race.
She was speaking as Kent Police launch a new phone line to report hate crimes.
Mick Cronin, a liaison officer with Kent Police, said it was important to report crimes early.
"The earlier we know about it, the earlier we can intervene and stop it," he said.
'Devastating effect'
The offender who targeted Ms Dhue picked her number at random. After the 20-minute telephone call, he was traced by detectives and jailed last month.
Ms Dhue said: "He asked me what race I was. And so I told him.
"And then he just started being racially abusive and telling me he was going to come and kill me."
Kent Police have set a reporting line for people to report all hate incidents relating to their gender, sexual orientation, religion, race, disability and age, because research showed some people may be reluctant to report incidents.
Specially-trained non-police staff answering calls can then refer incidents to be dealt with by the local authority or the police.
Det Supt Jon Sutton said hate crime could have devastating effect on people and added: "We want victims to know they have a voice. They will be listened to."