Children injured at Angels Football Ground garden event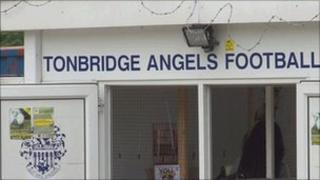 Three children have been taken to hospital after an inflatable slide toppled over at a garden show in Kent.
Emergency teams were called to the West Kent Garden and Leisure Show at Tonbridge Angels Football Ground.
Police said four to five children were treated at the scene by paramedics. The ambulance service said three were taken to hospital.
Kent Police said initial reports were that an inflatable slide had come loose in the wind.
Minor injuries
Emergency teams were called to the stadium just after 1230 BST.
A spokesman for South East Coast Ambulance Service said the three children taken to hospital included a three-year-old child who had an injury to the head, and a 10-year-old boy with back pain.
A Kent Police statement said: "Initial reports have indicated that an air-filled slide - same material as a bouncy castle - has come loose in the wind."
Police said paramedics had treated approximately four or five children for minor injuries, including shock.
The Kent Air Ambulance did attend but was not required.
Tonbridge and Malling Borough Council is investigating the incident.
No details were available for the third patient, but the spokesman said none of their injuries were life-threatening.
'Near climbing wall'
Hannah Applegren, who was nearby at the time, said a number of children were on the slide when it tipped.
"Because they were right next to the climbing wall with various metal posts, they have fallen on to them.
"There was one boy with bleeding to the back of his head, and it was quite serious.
"It was very shocking."
The West Kent Garden and Leisure Show was being held at the stadium in Darenth Avenue on Saturday and Sunday.
It included garden show stalls, birds of prey displays, children's entertainment, and activities including pottery and flower arranging.