Medway children to perform for Shaolin Warriors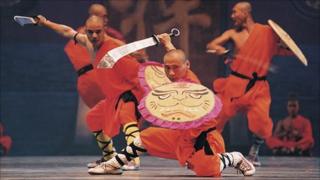 An internationally renowned martial arts group has invited Medway children to demonstrate their skills to them.
The Shaolin Warriors, who are from Beijing in China, are currently touring the UK.
Ahead of a performance in Chatham tonight, they want to see what children from martial arts clubs are learning.
Jez Walters from Shi Kon Martial Arts said: "The children are thrilled to bits and really looking forward to putting on this display.
"It is a unique event - Medway children who have been learning the ancient Chinese art of Kung Fu able to demonstrate to the very people who originated the art."
Shi Kon Martial Arts works with schools in Medway and 15 of them have set up, or are in the process of setting up, permanent Shi Kon Kung Fu Kids clubs for their students.
Mr Walters said the reason the warriors had chosen Shi Kon Martial Arts, which is based on Chatham Hill, was because it is one of only a small handful of clubs across England accredited to Sport England's clubmark standard - a standard which is recommended by councils, schools and school sports partnerships for organisations working with children.