Plans for almost 100 quarries and waste sites in Kent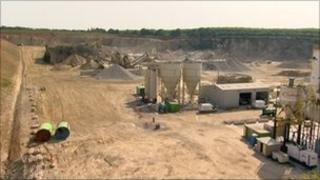 A list of 96 sites where quarrying and waste sites could be introduced or extended has been published by Kent County Council (KCC).
The locations have been suggested by Kent businesses and landowners and will now be the subject of a public consultation process
The council is working on a 20-year mineral and waste plan.
David Brazier from KCC said: "Waste and mineral operations can mean a welcome jobs boost for local communities."
Once KCC has finished the initial consultation, the number of proposed sites will be reduced, followed by a further round of public discussion.
"Businesses are already very active in mineral production and waste activities in Kent. We are also looking for modern, innovative ways of working," said Mr Brazier.
This consultation started on 31 May and ends on 26 July.