Margate's Dreamland owners to reject forced sale order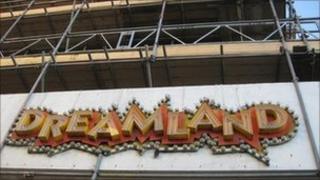 The future of Margate's disused Dreamland theme park is set to go to a public inquiry after its owners said they would object to a forced sale.
Thanet District Council issued the compulsory purchase order following failed talks with the landowners.
It wants to turn the land into a heritage park with rides and sideshows, but fears it will lose funding for the project if the stalemate continues.
Margate Town Centre Regeneration Company questioned the council's plans.
Council leader Bob Bayford said: "The council would obviously prefer to have reached agreement with the landowners over the Dreamland site, but sadly that's not been possible.
'Significant funds'
"The simple truth is that we may lose the grant funding for this project if we can't secure the ownership of the land.
"Significant funds are being invested in this project and we are not prepared to jeopardise that investment in the town."
The council said millions had already been invested in the scheme by Thanet, the government and the Heritage Lottery Fund.
But the regeneration company, which wants to build 600 homes on land next to the park, has cast doubt on the council's ability to meet the cost of the project, which it says could top £30m.
Separate plans
And Toby Hunter, the landowner's project director, said he believed the council had not factored in potential future losses.
"The council doesn't want to pay a penny for the land, but we've been working with them and were happy to agree to the CPO.
"But then they told us to kick back on our housing scheme and started commissioning architects for a park which we didn't think would fit well with our vision."
Mr Hunter said his company was drawing up its own separate plans for both pieces of land.
The planned park would feature vintage rides salvaged from Blackpool and Southport, and be centred on the Grade II-listed Scenic Railway, the oldest rollercoaster in the UK.
It would be run by the Dreamland Trust, which would be given the site by the council for a peppercorn rent.