Adam Catherick sentenced over Wingham meerkat theft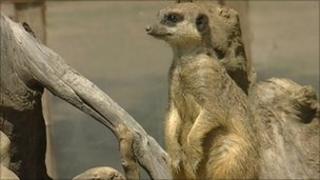 A teenager who stole a meerkat from a Kent wildlife park to take home as a pet after watching an insurance advert has been given a suspended jail term.
Adam Catherick, 19, from Sandwich, took the animal during a visit to Wingham Wildlife Park in December.
The meerkat was later found dead after it was hit by a car.
Catherick told Folkestone magistrates it was a "spur of the moment decision". He was given a 60-day suspended term and told to pay £1,000 compensation.
The park said the animal died because of his actions.
Russian accent
Tony Binskin, owner of the park near Canterbury, said: "I'm happy that he got sentenced.
"I think he should have got done for cruelty to animals as well. The animal died because he stole it. If he hadn't have stolen it, it would still be alive and still be here."
Catherick, of Laburnum Avenue, had admitted theft at an earlier hearing.
After the meerkat went missing, park staff feared it had been stolen because of a surge in the animals' popularity following a TV advertising campaign for the Compare the Market insurance comparison website.
The campaign features an animated meerkat with a Russian accent.
Body in bin
After leaving the wildlife park, Catherick took the animal home and kept it in a dog cage until it escaped and was hit by a car.
Appeals to find the missing meerkat led to the wildlife park receiving a telephone call from someone who had seen it being hit by a car in St Bart's Road, Sandwich.
The body was later found in a council dog waste bin in nearby Birch Avenue.
A microchip confirmed the animal, worth between £1,200 and £1,500, came from Wingham.
In addition to the suspended term handed to Catherick on Thursday and the order to pay the park compensation, he was told to carry out 150 hours of unpaid work.
He also admitted a separate charge of cannabis possession, for which he was handed another 60-day suspended sentence, to run concurrently with the first.
The park said meerkats were among its most popular attractions.
It said it would be installing CCTV as an extra security measure to protect the animals.