Kent and Canterbury birth unit remains shut for review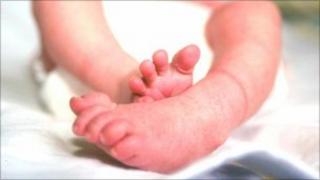 A Canterbury birthing unit which closed because of staff shortages in January will remain shut for at least another six months, NHS chiefs have said.
The Kent and Canterbury Hospital will stay closed while a review of east Kent maternity services is carried out.
Dr Sarah Montgomery, who is chairing the review, said issues being looked at included the safety of birthing units and efficiency.
Midwives have said the units are needed for women with low-risk pregnancies.
'No pain relief'
Virginia Howes, an independent midwife, said it was not appropriate for women who would have used the Canterbury birthing unit to go to a hospital medical unit.
She said women who were being looked after in a medical unit were more likely to have medical intervention and added: "You can turn a low-risk pregnancy into a high-risk one just by going into a consultant unit."
Ms Howes said women who were looked after at home or in a birthing centre were more likely to have a better outcome.
She said medical units sometimes tried to speed up childbirth, or offer pain relief - interventions which were not available in birthing centres.
'Women's choices'
And she added: "These things are not available in birth centres, and so therefore women are less likely to ask for these things, or the midwives working in those centres are less likely to offer them. The least you do in childbirth the better the outcome."
But Dr Montgomery said figures for the birthing unit in 2010 showed there were about 300 births in the whole year.
She said: "That's less than one birth a day. And of the mothers who chose to give birth there, nearly a third needed to be transferred in labour."
She added: "We need to look at the efficiency and safety of those units and we need to look at the choices that mothers would like to make."
The review is being carried out by East Kent Hospitals University NHS Foundation Trust and NHS Eastern and Coastal Kent.
Dr Montgomery said health chiefs would be consulting widely with mothers, organisations and professionals.