Northfleet College schoolboy stabbed on walk home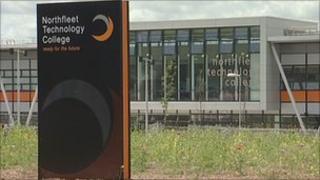 A 14-year-old boy has been stabbed in the leg as he walked home from school in Kent.
The youngster, who is a pupil at Northfleet Technology College, received a knife wound at about 1500 BST in Park Avenue, Northfleet, on Tuesday.
Kent Police said his injuries were not life-threatening.
Northfleet Technology College head teacher Jane Partridge said the attack was not connected to the school, but praised pupils who went to aid the boy.
She added: "I can confirm that one of our students was attacked by an unknown person on his way home from school last night. This attack was not connected to the school.
"As head teacher I am extremely proud of the other students whose response helped prevent what could have been a more serious incident without thought for their own safety.
'Words were exchanged'
"The student was stabbed in the leg and is being treated in hospital.
"We are working with the police to make sure this person is apprehended as quickly as possible.
"We are also talking to our students in assemblies and making sure that other local schools are aware."
A spokeswoman for Kent Police said the boy had been walking home from school with four friends when he was approached by a teenager who was not known to him.
She said: "Words were exchanged between the group and the attacker before he produced a knife and stabbed the victim in the leg once."
The attacker was about 16 years old, of slim build and had short hair. He was wearing a grey hooded top and jeans.